Le confinement est une période éprouvante psychologiquement. Ainsi, mettre sur papier son ressenti peut être un moyen de supporter la situation.
D'autre part, dans le cadre de l'échange avec un collège espagnol, il semblait intéressant que nos correspondants puissent comprendre ce que nous vivions et partagent notre vécu.
Ainsi, dans le cadre des cours d'anglais, les élèves de 4e et 3e ont eu à rédiger un texte dans lequel ils expliquaient quelle était la situation, comment ils la vivaient au quotidien.
Voilà quelques exemples de travaux rendus.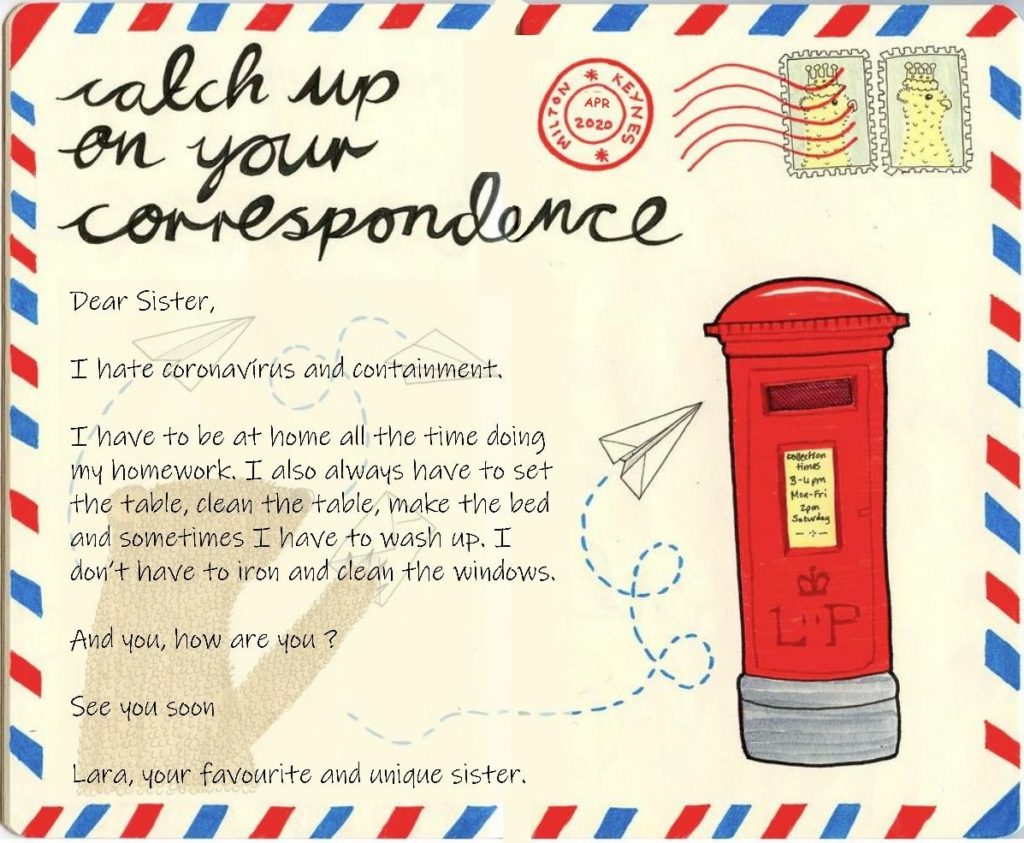 Dear great grandchildren,
I wanted to tell you about the Corona virus epidemic in order to keep a record of this difficult period.
First of all, it was an epidemic from China more precisely from the city of  Wuhan.
It started in December 2019 and the contagion grew as the days went by and spread in Europe in particular. Italy and Spain were the most affected countries but France was not spared. Containment was imposed by the French President to defeat the virus. So we had to stay at home as often as possible to avoid endangering ourselves and protecting others. We could only leave our house to go shopping and work with a pass.
At home, I had to wash my hands regularly to remove everything that could be harmful to my health and I had to avoid touching my face.
During that period, I was stressed and afraid of my parents and loved ones catching the virus. It was also frustrating having to stay at home all the time. I was also anxious about the future : what was going to happen?
To change my mind, I took care of my pets (Guinea pig, dog, fish) and sometimes I would walk or ride a bike in the woods. In order to respect the rules, I was very careful not to meet anyone. If I met somebody, I would politely step aside several meters away. I also tried to put a stress on the positive aspects of the situation even if it was complicated.
Léa 4e1
Dear diary,
Since February 2020, we have had to be careful because of a new epidemic. Indeed : a new virus called covid-19 appeared in China.
We don't exactly  know the cause of this sudden appearance : several theories have been made : bat soup, a pangolin, leak in a laboratory… Ultimately we don't really know the cause. The virus spread very quickly.  In France, public places were closed first, then small and large gatherings as well as outings were prohibited.
As this containment prevents me from seeing my friends, I call them every other day.We are forbidden to leave our home except in the following cases: shopping for basic necessities, helping people in need, for childcare, work when teleworking is not possible.
There are some good points. Thanks to this containment I play the piano and  keeep mproving , I do gardening and go biking. I also spend time on my homework.
Rachel
Diary of a teenager during the containment
During the terrible coronavirus pandemic in 2020, we were all confined at home. This virus killed thousands of people and hit many countries. It was general panic.
All the schools were closed so pupils had to follow classes via Internet.
At the beginning, everybody rushed to chemists to get masks and hydroalcoholic gel. Supermarket shelves were emptied.
We were allowed to go out only if we had a valid pass and a specific purpose. We were allowed to practise a physical activity an hour a day, one kilometre away only.
At the beginning, it was complicated but as time went by, we got used to it. Anyway, I can tell you that staying locked up at home for several weeks was long and boring all the more as we had no idea how long it would last.
Aleksandr  3e1
The Covid 19  appeared in Wuhan (China) in December 2019. The covid 19 has spread all over the world. So far, it has contaminated and  killed millions of people.
The confinement is all right for me because I get busy. I play outdoors in my garden with my brother and I play a video games a little . In order to get exercice, I play  baket ball ,rugby , football , and go skateboarding. I sometimes read a book and  do my homework.
It is forbidden to go out in the street so we have to stay at home. I am lucky because my play ground is very big. There are also a little forest and a river at home.
Camille Bessiere 4e1